calendar_today 16 May, 2023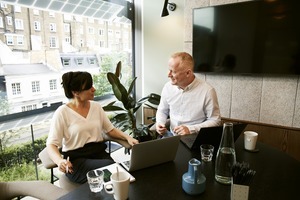 Sustainability is more than a buzzword — it's a thriving industry. According to a global industry forecast by Allied Market Research, the sustainability market is expected to reach $76.6 billion by 2030, with an annual growth rate of 21.9%. As the need for sustainable development and processes expands worldwide to meet the increasingly challenging Paris Agreement goal to limit warming, successful initiatives depend on well-coordinated and informed efforts at all levels — individual, local, regional, national, and international.
The public sector is responding to that need: the proposed U.S. EPA budget for 2024 provides $12.083 billion and looks to add 1,900 full-time employees to address environmental needs, and the Inflation Reduction Act, the U.S.'s largest investment in climate and energy ever, sets aside billions of dollars for clean energy and climate change programs. Globally, most countries, and their public institutions, are making progress toward the goals outlined in the UN's 2030 Agenda for Sustainable Development.
The public sector alone isn't the only area making progress, though. In collaboration with public agencies and nonprofits, private sector businesses are using their expertise to develop updated infrastructure that furthers sustainability planning and initiatives. Even companies that aren't directly involved in sustainability are adopting environmental, social, and governance (ESG) principles, leading them to develop roles dedicated to environmental impact and integrate effective practices into operations.
If you're interested in a career in sustainability, there's never been a better time to pursue one. But in a field that's undergoing rapid growth and development, knowing where to start can be daunting.
These seven steps can help you navigate your journey, from exploring the possibilities to landing a sustainability job that provides you with personal and professional fulfillment.
1. Research the Sustainability Industry
Some time spent researching online can quickly point you toward major government sustainability initiatives, NGOs and nonprofits working in the field, and prominent businesses in the industry. By reading news and journal articles about sustainability projects, you can begin connecting these initiatives to certain career paths in the industry.
Identify people working in public administration and policy related to sustainability and follow them on social media like Instagram or LinkedIn, or keep an eye out for their names in the news. Ask personal and professional contacts if they know anyone working in sustainability that you could talk with about their experience in the field and to get insights on potential career paths .
2. Identify Areas of Interest
While you don't have to know exactly what kind of job you'd like right away, narrowing your search to some general areas will help you hone in on next steps. Keep in mind that with rapid change and growth comes a wide range of possibilities: you don't have to limit yourself to one type of work in one sub-field. There is space for overlap between different career paths and specific industries.
You might ask yourself these questions:
Does your passion lie in a specific aspect of social, economic, or environmental sustainability efforts? For example, if you are interested in social sustainability, you might want to explore socially responsible investing, environmental justice, or corporate social responsibility.
Would you prefer to work for the federal government, a local or state government agency, or with a private company or nonprofit that complements or supports government climate initiatives?
Are you interested in helping to create sustainability policy or carrying out those policies?
What particular areas of sustainability are expected to grow quickly and have high job growth in the next few years?
Are you interested in work that you can do mainly on your own (such as data analytics or research) or work that necessitates collaboration with other people (such as planning or administration)?
3. Consider Your Strengths
Knowing your abilities and how they might best be applied to advancing sustainability in public administration and policy can help point you to careers where you can use and build on those strengths. For example:
Exceptional technology expertise or an ability to crunch data would be useful as a budget or data analyst.
An ability to shepard projects from conception to completion could apply to roles managing or leading sustainability projects and teams.
If you're good at bringing people from diverse groups together and helping them come to a consensus on tricky issues, you might translate that skill to jobs in sustainable policy planning and promotion.
If you can effectively translate complex subjects for general audiences, that could be useful for communicating the details and impact of sustainability projects and policies to the public.
Keep in mind that it's sometimes difficult for us to evaluate our own unique strengths. We may take them for granted or undervalue them. Ask coworkers, managers or professors for their insights on the special abilities and characteristics you bring to the table. This process can also be a major boost to your confidence!
4. Discover Jobs You May Like
Research titles and responsibilities in sustainability to see which ones align with your interests, abilities, and goals. You can look at websites like ZipRecruiter and PayScale as well as government resources such as the Bureau of Labor Statistics for examples of typical jobs and the tasks associated with them.
Some examples of public administration and policy job titles related to sustainability include:
Director of Sustainability Policy
Corporate ESG Manager
Sustainability Program Coordinator
Government Affairs Manager
Sustainability Communications Director
Environmental Research Director
Energy Policy Advocate
Senior Environmental Policy Analyst
5. Further Your Education
While you may already have work experience that translates to the field, a master's degree can help you develop key skills and expertise to qualify for high-level and leading sustainability jobs in public policy and administration.
A Master of Public Administration emphasizes management and leadership skills with advanced competencies in budgeting, HR, organizational management, and ethics. When applied to a sustainability-related career, students can gain the ability to think critically about environmental, social, and economic problems; come to informed decisions about how to address them; and participate in carrying out related policies in public service activities.
A Master of Public Policy focuses on analyzing data and research to evaluate and solve problems related to societal challenges, such as sustainability, and devise policies that can help address and solve them. Students also learn how to communicate the value of those policies to different audiences (such as legislators and members of the community) and assess their effectiveness in practice.
6. Develop Professional Experience
Being able to show that you have worked on sustainability projects or policies in the past gives you an edge in the job market. Even before you land your first full-time job in the field, there are plenty of ways to gain real-world experience that boosts your resumé.
For example, both the MPA and MPP programs at Northeastern University emphasize experiential learning within the curriculum and through external opportunities, no matter your modality. In addition to providing students with practical experience through applied projects and research, both programs require a capstone project involving a real-world client. Students near Northeastern's Boston or Arlington campuses can take advantage of the university's long-standing relationships and partnerships with government agencies and other key organizations related to sustainability and public administration.
Both programs also offer experiential opportunities through the university's signature co-op program, in which students earn course credit for full-time work at a partner organization. Students without previous job experience gain a valuable introduction to the professional world, while those further along in their careers can learn about the industry while continuing to advance on their professional path.
In addition to practical experience, these work opportunities can help you develop valuable contacts and meaningful connections that can support and enrich your development and success throughout your entire career.
7. Get Ready for Your Job Search
Even after you've completed the above steps, a job may not immediately manifest. Most people have to proactively seek a suitable position. These are a few ways you can make sure you're prepared to search for and secure a sustainability job that's right for you.
Write or update your resumé. Include the professional experience and educational credentials you've gained. You can also tweak your resumé to highlight specific skills for particular jobs.
Create or optimize your LinkedIn profile. The platform is increasingly useful for finding jobs and networking (which can lead to employment opportunities). Once you've created a profile, don't just let it sit there — join groups related to sustainability, follow people and organizations in the field, post your ideas, and comment on other posts to boost your visibility.
Attend networking events. See if there are industry-specific meetups in your area that you can register for. Even general networking events can lead to useful connections. You might also consider attending industry conferences.
Practice your interview skills. Brainstorm potential questions you might be asked and be ready to provide examples of how you might address typical tasks or problems on the job. You might even practice with a friend to get their feedback and make sure you come across as professional and polished.
Prepare for an offer. When you do get a job offer, be ready to negotiate your salary and other benefits by researching the typical pay range for the role.
Get Ready for an Exciting Career Making a Difference
As the future of sustainability continues to unfold, opportunities will only grow. The industry needs motivated people with the knowledge and skills to successfully design and carry out sustainability projects and processes in local communities, national governments, and international collaborations. By following these steps, you may play an important part in the critical effort to create a world that is cleaner, healthier, and more equitable for everyone.
---
About the Master of Public Administration and Master of Public Policy Programs at Northeastern University
Northeastern University, a top-50, R1 research institution, offers two interdisciplinary, community-focused degree options for professionals ready to make their mark in the world of public service. Northeastern's School of Public Policy and Urban Affairs offers these two degree programs. Our Master of Public Administration (MPA) option is a career-oriented program designed to shape leaders who are ethical, efficient, and effective. Meanwhile, our Master of Public Policy (MPP) program equips future policymakers with the comprehensive research and analysis skills they'll need to best support the public good. Students in each program benefit from the world-class education, research opportunities, and expert faculty provided by Northeastern's College of Social Sciences and Humanities. Students may take classes online, in person, or in a mixed modality format.
---
PUBLIC AFFAIRS
Get Started Now
Fill out the form to learn more and download a brochure about Northeastern University's Master of Public Administration, Master of Public Policy, Master of Science in Criminology and Criminal Justice, or Graduate Certificates.
You can also email publicaffairs@northeastern.edu or call us toll-free at +1 877.377.2739 or at +1 617.655.6736 to talk with one of our admissions counselors.