calendar_today 8 March, 2023
"Co-op is a fantastic experience. Students go out for a 40-hour/week job — a real job — in an agency for six months. They have real responsibilities, and if they weren't there, something wouldn't get done."

Amy Farrell, Director and Professor of Criminology and Criminal Justice
Experiential learning is an integral part of studying at Northeastern University, from our multi-generational research opportunities to our incomparable co-op experience. We've been recognized by U.S. News & World Report for this focus, ranked #1 in the nation among programs that combine classroom learning with real-world experience.
The co-op is an optional component of the Master of Science in Criminology and Criminal Justice (MSCJ) program that adds six months of experiential learning to the degree. By taking advantage of this opportunity, students can complete the full program — and gain resumé-worthy work experience — in just 18 months.
Amy Farrell, director of the School of Criminology and Criminal Justice (SCCJ), notes that the co-op experience doesn't involve getting coffee and making photocopies. "Students are embedded in the agencies. They have real jobs, real responsibilities, and if they weren't there, something wouldn't get done," she says.
Our traditional co-op program features full-time — 32 hours or more per week — primarily paid employment at an organization associated with a student's field of study. With rapid changes to the employment landscape, including the expansion of remote work options, we understand the importance of making updates to the program as needed. We now offer flexible co-op options, including remote experiences, part-time options, and shorter timeframes.
We firmly believe that experiential learning animates and enriches the MSCJ program. With a co-op, students are able to apply their work experience to their classes, and vice versa, as Farrell explains. "When we have a class talking about district attorney decision-making, for example, students have a lot of experience that they're bringing to those classes. It's part of what we love because that's where we can take our research. And that's what our students really get out of our education — that high-level, very research-active, very connected to the academic discipline — but doing it in the field of practice."
---
The Northeastern Co-Op Experience
Beginning in the second semester of the MSCJ program, students who are interested in pursuing co-op receive assistance from a dedicated co-op coordinator.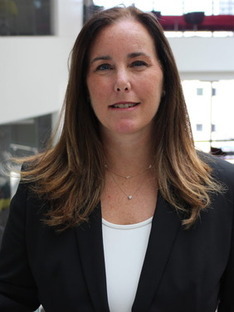 "Michelle Zaff works with students in identifying placement options and preparing them to do interviews. When they're out on co-op, she is the person who is checking in with them and making sure they're having regular engagement back to the academic field," says Farrell.
Students who pursue co-op will complete mandatory modules in Canvas on resumé building and mock interviews before submitting the Co-op Search and Work Agreement/Intent form. They'll then meet with Zaff to review their resumé and goals before they can begin using NUworks, Northeastern's internal employer database, to search for available opportunities. Students receive support from Zaff in reviewing jobs they're interested in and getting recommendations for jobs based on their interests, and continue to work with her throughout the entire process.
While completing their co-op, students are also enrolled in a 2-credit online Experiential Integration course (INSH 6864). Grades in the course are based on students' written work, supervisor evaluation, and timely completion of online assignments. During the co-op, students receive assignments like:
Data analysis and reports
Economic analysis and reports
Event and conference management
Research reports
Maps and spatial analysis
Online program design

Organizational security management plans and reports
Data visualizations
Policy memos
Public affairs communications and social media content
Public outreach and assistance
Tracking legislation and regulation
Nearly 90% of College of Social Sciences and Humanities students participate in co-op.
---
Co-Op Placements
Northeastern has 2,500 established employer partnerships in 80 different countries to accommodate students around the globe. Students also have the option of developing their own co-ops or securing a co-op job through their own connections.
The security of our employer partnerships speak to the stability, and the history, of the co-op program. Students who participate in a co-op are not entering a position blindly, without support: "In many of our agencies where we've had co-op positions for years, they just take a full-time employee position and they make it the co-op position. It splits between the co-op students — one half of the year is one student and the other half of the year is another student," says Farrell.
Organizations where CSSH students have worked include:
Boston Police Department
Children's Advocacy Center of Suffolk County
Department of Justice-Interpol Washington
George J. Kostas Research Institute for Homeland Security, LLC

Office of the Inspector General of MA
Rwanda National Commission for the Fight against Genocide
The New England Innocence Project LLC
Most available co-op positions are paid. There is no tuition charge while a student is on co-op only, though they will be charged a regular rate for any other classes they take at the same time.
Find out more:
99% of Northeastern students would recommend co-op to a friend.
---
Preparing for Careers in Criminology and Criminal Justice
Students in the Master of Science in Criminology and Criminal Justice program go on to become analysts, intelligence officers, policymakers, and more. Our well-prepared graduates seek to directly impact policy and make a difference in our criminal justice system.
Learn more about what you can do with a master's in criminology and criminal justice.
In the National Association of Colleges and Employers (NACE) Job Outlook 2023 survey, employers cited on-the-job experience at their organization or within the industry as a top hiring factor. The co-op experience at Northeastern enables Master of Science in Criminology and Criminal Justice students without career experience to gain this real-world exposure and have a starting point for their careers.
"Students get co-ops at places that they want to work. It's opening that door for them, and a lot of our students continue working at the places that they did their co-ops," says Greg Zimmerman, associate professor of criminology and criminal justice and director of the master's program.
Students who choose to pursue other employment opportunities after graduation benefit from the professional connections gained during the co-op experience. Those who perform well in their co-op can request letters of recommendation from that organization to apply for a similar job, Zimmerman notes.
50% of students receive a job offer from their co-op employer.
The co-op experience also helps students pinpoint and address areas they need to learn more about to be prepared for their careers.
"The co-op experience lets you have some process of reflecting back and saying, 'Where do I need to learn more? I don't actually know this. I thought I knew it, and then I went to go do it, and it looks different than what I thought it was going to be and I don't really know it as well as I thought I did,'" says Farrell.
While students may also have an idea of how something will work based on what they learn in the classroom, circumstances can be different once in the field of practice. The co-op provides the chance for students to get hands-on experience utilizing the theories they've learned.
"The co-op experience integrates practice and knowledge. I think for all of us — we can learn things, but until we actually do them, they don't make a lot of sense. And research methods and analytical and conceptual skills are very much that way. It's easy to memorize the concepts, and you might be able to do well on a test, but your ability to actually 'get it' comes from actually doing it. And experiential learning lets you do it. It's bringing to life the concepts and tools that we're trying to develop within the classroom," says Farrell.
---
About Northeastern University's Master of Science in Criminology and Criminal Justice
Available on campus, online, or in a mixed modality, the Master of Science in Criminology and Criminal Justice (MSCJ) from Northeastern University examines all aspects of criminological inquiry and the criminal justice process. Students benefit from the extensive resources of a globally renowned research institution as they explore strategies to prevent crime, encourage societal equity and justice, and reduce harm in the justice system.
Our world-class faculty teach advanced skills in qualitative and quantitative research and analysis while providing foundational knowledge in criminological and criminal justice theories and individualized mentorship. The MSCJ curriculum, which can be completed in one year, offers students and professionals the knowledge and skills needed for leadership roles in policymaking, research, analyst work, research directorships, and law enforcement. This program features a range of customization options, including a cybersecurity concentration, the ability to complete a graduate certificate in a related field, and experiential learning.
---
PUBLIC AFFAIRS
Get Started Now
Fill out the form to learn more and download a brochure about Northeastern University's Master of Public Administration, Master of Public Policy, Master of Science in Criminology and Criminal Justice, or Graduate Certificates.
You can also email publicaffairs@northeastern.edu or call us toll-free at +1 877.377.2739 or at +1 617.655.6736 to talk with one of our admissions counselors.