calendar_today 5 October, 2021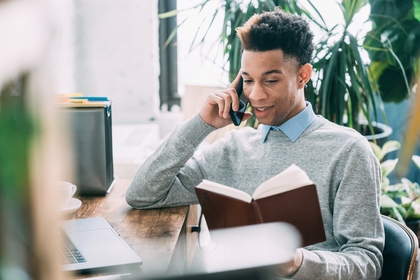 The ongoing COVID-19 pandemic highlights the need for robust and efficient infrastructure to deploy essential supplies, services, and personnel. While healthcare providers and elected officials are often most prominent in the news, extensive networks of administrators work behind the scenes to help communities function and respond to challenges. From compliance officers, who monitor safety practices in workspaces, to budget analysts, who secure funding for programs, public administration specialists are integral to the overall pandemic response.
These experts are just as invaluable to prepare for the social and structural effects of other catastrophes like climate change. Public administrators can take proactive steps to ensure that the concerns of communities of all sizes don't fall through the cracks as multifaceted crises unfold. As the Director of Northeastern University's School of Public Policy and Urban Affairs and Dean's Professor of Sustainability Science and Policy Jennie Stephens explained, "We won't be able to make the transformative changes that we need until and unless we focus on social justice."
Earning a master's in public administration (MPA) is an important step for professionals who are dedicated to building systems that function more effectively and equitably. Equipped with advanced skills and current research, leaders in public sector and nonprofit organizations can pursue MPA careers focused on keeping services operating smoothly and implementing innovative solutions to address structural inequality.
---
How an MPA Can Help Advance Your Career
The expansive field of public administration includes roles focused on improving policies and solving problems at the local, national, and international level. Professionals who pursue Master of Public Administration careers might work in data analysis, infrastructure development, policymaking, media relations, or social services. In each of these areas, leaders can serve the needs of local constituencies by applying skills in policy analysis, program evaluation, research, and communication.
With many communities growing in size and complexity, the MPA job outlook presents opportunities to lead in a variety of roles. For instance, the U.S. Bureau of Labor Statistics forecasts job growth of 15% for social and community services managers, 13% for economists, and 7% for urban and regional planners between 2020 and 2030. A Lightcast analysis of job listings requesting skills in public administration showed that professionals with a master's degree can earn an average of 13% more than those who only hold a bachelor's degree.
Let's consider Master of Public Administration salary expectations and job responsibilities for nine titles in the field:
MPA Salary Expectations
Sources: U.S. Bureau of Labor Statistics and Lightcast Labor Insight
---
Master's in Public Administration Career Paths
Budget Analyst
Organizations of all types and sizes need to balance their revenue and expenses to work toward their goals. Whether employed in a private company, nonprofit, or government agency, budget analysts use their understanding of finances to keep operations running efficiently.
Although they don't usually make final decisions on expenditures, these professionals analyze short- and long-term costs before recommending action. A budget analyst's job also requires clear communication with management and other stakeholders to ensure the organization has the financial resources to further its mission, such as providing community services or administering healthcare interventions.
City Manager
While typically not an elected position, a city manager has many politically oriented responsibilities, working with the city council and mayor to evaluate current policies and implement new ones. These professionals oversee crucial services like water treatment and trash pickup, supervising workers ranging from electricians and road workers to administrative staff.
City managers must be excellent communicators who report to the council as well as the public on topics such as the progress of projects and a municipality's financial health. Accomplishing these diverse duties requires strong administrative, interpersonal, and leadership skills.
Compliance Officer
Compliance officers are responsible for adherence to legal and ethical regulations at corporations, nonprofits, or government agencies. The specific duties of a compliance officer may differ widely between employers, with some professionals overseeing the physical accessibility and safety of a facility while others concentrate on protecting sensitive information from data breaches or other cyberthreats.
This role may also involve conducting training programs, auditing processes to evaluate the risks of noncompliance, and reporting to management. In a healthcare setting, for example, compliance officers monitor functions like recordkeeping, billing, and laboratory safety to ensure that data is secure and all departments follow privacy regulations.
Fundraising Manager
Many nonprofit organizations depend on a continuous stream of donations to keep operations running. Fundraising managers lead campaigns that may focus on generating long-term support or acquiring capital funding for individual projects, such as a new building. This position involves building relationships with potential donors by discussing an organization's strategy and how contributions can make a difference in accomplishing its goals.
Fundraising managers must understand their organization's budgetary requirements and work closely with the CEO and board of directors.These professionals also write grant proposals for public funds and manage long-term endowments. As managers, they oversee paid and volunteer staff and coordinate events to drive fundraising efforts.
Healthcare Administrator
Although they rarely interact directly with patients, administrators are vital to help hospitals, public health agencies, clinics, and other healthcare organizations achieve their objectives. A healthcare administrator's responsibilities may include budgeting, hiring and training personnel, and maintaining a facility's accreditation.
These professionals must possess extensive knowledge of the latest regulations, such as rules pertaining to patient confidentiality and Occupational Safety and Health Administration (OSHA) guidelines, so they can enforce compliance. Administrators may steer broad initiatives that help entire communities and populations. An
Policy Analyst
While politics often entails working in the public's view, effective administration also requires professionals behind the scenes who inform decision making with research and theoretical concepts. Policy analysts stay current on issues like immigration, foreign policy, and voting patterns to understand how policies affect various populations.
Professionals in this role often work as aides to political candidates, helping to devise campaign strategies and platforms that appeal to voters, and serve as advisors within an administration. Analysts may also work as researchers at a government agency or nonprofit organization where they study the needs of constituents, develop legislation, and track the results. The skills gained in a Master of Public Administration program provide theoretical knowledge and first-hand experience so political strategists can achieve practical results through policy.
Public Relations Manager
Organizations employ public relations managers to develop and circulate compelling narratives around their accomplishments. PR managers have a keen understanding of their employer's mission and strategically craft communications, like press releases or social media posts, that target relevant audiences.
These professionals are often an organization's primary point of contact for the media, so they prepare statements and attend interviews on the company's behalf. In a governmental role, a PR manager might give press conferences to detail how new policies will affect citizens. As a managerial position, this role entails overseeing staff like copywriters and spokespeople to maintain consistent messaging in addition to approving budgets for advertising and corporate events.
Social and Community Services Manager
Social and community services managers work at the front lines of public administration issues like homelessness and elder care. From this vantage point, administrators are able to identify gaps in services and propose solutions. An SCS manager may also implement community outreach plans to raise awareness of an organization's mission.
Many professionals in this role work for nonprofit agencies that rely on fundraising; therefore, part of the job might be to draft grant proposals and produce reports that demonstrate the effectiveness of programs. SCS managers also oversee staffing efforts, including recruiting, interviewing, and onboarding new employees. These managers must be able to work with diverse populations, exhibiting empathy and cultural awareness.
Urban and Regional Planner
As cities and regions expand, professionals apply their understanding of geography and policy to manage the economic, social, and environmental effects of development. Urban and regional planners analyze data and meet with community members to gain insights into an area's needs, devising solutions that make the best use of available space.
For example, if a city annexes several square miles of new property, a planner might study the city's budget and reports from citizens to recommend that one portion of the land should be zoned for commercial use while another is slated to become a park. Urban and regional planners must keep up to date with zoning laws and environmental regulations, accounting for the ethical implications of their recommendations.
---
Developing Skills for a Public Administration Career
Public policy challenges at the local, national, and international levels require leaders with advanced knowledge and well-honed skills. Organizations rely on the strategic vision of highly skilled experts to contend with the effects of COVID-19 and climate change in addition to solving problems in areas like healthcare, education, and housing. A Master of Public Administration program develops the theoretical understanding and practical experience that graduates need to advance the public good by anticipating and responding to issues that affect communities.
As a result, there's a promising master's in public administration job outlook for professionals who understand the complex factors involved in resource distribution, infrastructure building, human management, and more. Public administration professionals can enter the job market or advance into leadership roles prepared to think critically about crucial challenges and apply research-based solutions.
---
About Northeastern University's Master of Public Administration
Northeastern's Master of Public Administration, which students can complete in 1.5 years, is a globally recognized and nationally accredited program dedicated to developing leaders for a changing world. Our comprehensive curriculum, available online, on campus, or in a mixed modality, familiarizes students with the social, environmental, and economic foundations of public administration. With mentorship from world-class faculty, students develop their analytical skills and devise practical solutions to current issues in the field.
An optional healthcare concentration equips students for careers in medical administration and policy-making. Through experiential learning opportunities like internships and co-ops, students learn how to effectively apply their knowledge in real-world situations with government agencies, businesses, and nonprofits. This experience, coupled with Northeastern's dedicated job-search assistance, prepares graduates to lead in organizations that function more effectively and equitably.