calendar_today 11 August, 2023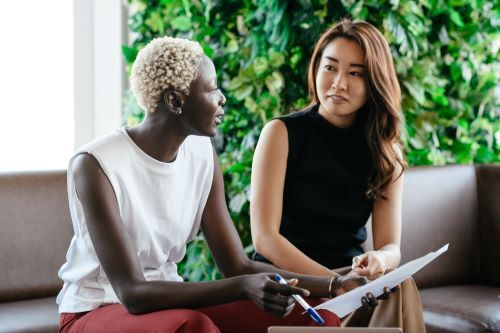 Experiential learning is a hallmark of Northeastern University. Students in the Master of Public Administration (MPA) and Master of Public Policy (MPP) programs have the opportunity to gain real work experience and build their resume. The MPA and MPP programs provide a variety of experiential possibilities, from internships at government agencies to co-ops in the private sector.
What is experiential learning all about? It's an approach that emphasizes active, hands-on experiences. Instead of passively consuming information through traditional lecture-style formats, students actively engage in work that has an immediate impact on the world. They get to take what they have learned in class and turn it into practice. Experiential learning is also a great way to see that people and situations do not always follow what you see in textbooks.
For those interested in a public administration career or public policy career, experiential learning is especially important due to the multidimensional nature of public sector challenges. Public administrators must be adept at negotiating a vast array of tasks while answering to many different stakeholders. Through hands-on learning, students are able to better understand and respond to the complexities of public service. This kind of learning also fosters soft skills such as leadership, empathy, and effective communication, which are integral to successful public administration.
Lisa Doherty was the senior co-op coordinator for English and political science at Northeastern University and recently retired in 2023. She joined the CSSH co-op team in 2011 and worked with undergraduate and graduate students. Linda Kowalcky is the associate director of the School of Public Policy and Urban Affairs and program director for the Northeastern University MPP program. She teaches public policy and public administration, and she works with the school's internship programs.
In the following Q&A, Lisa and Linda give an insider look at experiential learning at Northeastern University. Read on to see what they had to say about how Northeastern chooses partner organizations, the time period that students typically decide to embark on a co-op, and why experiential learning can be a life-changing experience.
Experiential Learning at the Northeastern College of Social Sciences and Humanities
Northeastern is ranked #1 in the nation by U.S. News & World Report for programs that combine classroom learning with real-world experience. Here's a quick look at the types of experiential learning offered at the Northeastern College of Social Sciences and Humanities (CSSH). You can visit our Experiential Learning Opportunities page for more details.
Co-op
Co-op (short for cooperative education) has been part of the Northeastern experience for more than a century. During their co-op, students work full-time for an organization related to their academic interests.
Internship
All students in the MPA and MPP graduate programs must complete an internship unless they (a) choose to complete a co-op instead or (b) already have substantial career experience.
Research
Students get to collaborate with faculty on groundbreaking research in class and also at Northeastern's research centers and institutes.
Capstone Project
All students in the MPP and MPA programs complete a capstone project. Students work in groups of three to five and spend 15 weeks solving a problem for a real client.
---
A Conversation With Northeastern Experts
Tell us about the differences between internships and co-ops (both online and on-campus) at Northeastern.
Linda Kowalcky: Internships are flexible. They can last weeks or several months. They are usually between five hours and 20 hours a week, and they may or may not be paid.
A co-op is a full-time job, which means co-op participants are limited in the number of classes they can take at the same time. Students who enter a co-op understand the time commitment as it relates to their academic and personal obligations.
We've had quite a few students do both an internship and a co-op. These students want to explore different job markets and organizations. A commitment to do a 10-week internship for 20 hours a week over the summer can be a way for them to see what working at a small nonprofit is like versus working in a government position. It's always astonishing to me that we have students who manage to juggle a couple of internships and a co-op, but they do!
At what point in their graduate program do students take on a co-op?
Lisa Doherty: In order to be eligible for a co-op, a student must have completed a full semester of graduate coursework at Northeastern. Most graduate students complete two semesters and then go on to a co-op in their third semester, though some students decide to pursue a co-op in their last semester.
Tell us about the organizations you partner with for co-ops.
Linda: The co-op program has been a longstanding program at Northeastern, and it is very professionally run. Many of our employer partners have been with us for a long time. We also look for new partners that we think would be a good fit for our programs.
When talking to new partners, we make sure they understand there is a commitment on their end (as well as on the students' end). We ask the partners to present us with the project our students will be working on in advance so we can make sure it fits our criteria.
For internships and fellowships, we have many alumni in organizations that have had student interns with us before. They often reach out and ask if we have anyone interested in working at their organization or company.
We look for organizations that have a track record of bringing on interns, whose work is a good fit with the mission and the programs of our school, and who give our students a high-quality experience.
How do students find co-op opportunities?
Linda: The co-op program is run by a very large office within the University itself. Every college and every unit, including CSSH, has staff that are dedicated specifically to help our students.
Lisa: Students have a cooperative education advisor, and I am their point of contact during their co-op search and during the co-op itself.
When a student is eligible to participate in co-op — after they have finished at least two semesters — they first meet with the graduate program director to ensure co-op fits into their academic plan. Then I'll meet with the student to review their resume and goals. After that, they can apply for jobs via our live database of employer partners. Students can take a look at what's available and what they feel would be a good fit, and apply for those roles. Employers make all the decisions about who they want to interview and hire.
How do you prepare students for their co-op experience?
Lisa: We work with students both in the classroom setting and individually to prepare them for experiential learning. In class and in my office, we assist them in putting together a solid career portfolio that they can use in their interviews for co-op jobs. We also take them through how to create an effective cover letter and resumé.
I also hold mock interviews with my students. They meet with me, bring a job description, and l play the role of their potential employer. There's a lot of emphasis on preparation for them as they're coming into contact with potential employers. We are there for students throughout the process.
How do online MPP and MPA students build connections, both in the classroom and during their experiential learning?
Lisa: Students choosing to take a co-op will take the Experiential Integration course, which helps students get to know each other even though it's asynchronous. It involves discussion boards and conference-style posters. That's one way that students build community. We also encourage students to build relationships during their co-op or internship, and build a network with the people that they're working with.
I suggest our students have coffee or lunch with someone from different areas of where they're working, and to ask them about their jobs, how they started in the industry and how their job fits into the organization.
How does the co-op experience transform students after graduation?
Lisa: The amount of personal growth you see with students after their co-op experience is incredible.
They approach their graduate studies more professionally because you've worked as a professional in the field that they're interested in. They are also more engaged with topics that they are learning about.
Students come back saying they feel more confident in their ability to communicate, whether in business writing, email writing, or putting together reports. A lot have opportunities to present during their co-op, so their presentation skills are also improved.
What is one piece of advice you would give incoming students about experiential learning?
Linda: It sounds like a small bit of advice, but new students don't always realize all the opportunities they have to work with faculty on research or what co-ops are available. They haven't thought through what type of skills they want to acquire. You learn a lot about yourself in graduate school, both from your classmates and from talking to faculty about their own career trajectories. My advice to new students is to leave your options open until you really have a sense of the direction you want to take at Northeastern.
To learn more about the Master of Public Administration and Master of Public Policy programs, and about experiential learning at Northeastern University, connect with an admissions counselor by phone at +1 877.377.2739 (toll-free) or email at publicaffairs@northeastern.edu.
Learn About Two of Our Capstone Projects
Recently, a team of MPP and MPA students worked with CultureHouse, an organization that improves livability in local communities by transforming underutilized spaces into vibrant social infrastructure. Our MPP/MPA students helped CultureHouse develop a new way to collect and visualize data, which included a creative prototype for collecting community survey answers.
In another project, a team of students worked closely with a working group inside the Boston Public Schools' Department of Early Learning. The students conducted interviews and used the results to provide recommendations on how to get families more involved and engaged in the school system.
---
About the School of Public Policy and Urban Affairs
Northeastern University, a top-50, R1 research institution, offers two interdisciplinary, community-focused degree options for professionals ready to make their mark in the world of public service. Northeastern's School of Public Policy and Urban Affairs offers these two degree programs.
Students in each program benefit from the world-class education, research opportunities, and expert faculty provided by Northeastern's College of Social Sciences and Humanities. Students may take classes online, in person, or in a mixed modality format.
---
PUBLIC AFFAIRS
Get Started Now
Fill out the form to learn more and download a brochure about Northeastern University's Master of Public Administration, Master of Public Policy, Master of Science in Criminology and Criminal Justice, or Graduate Certificates.
You can also email publicaffairs@northeastern.edu or call us toll-free at +1 877.377.2739 or at +1 617.655.6736 to talk with one of our admissions counselors.