calendar_today 1 March, 2022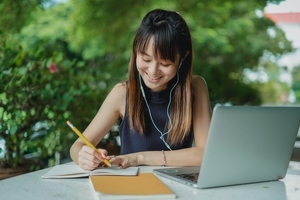 With employers continuing to increase educational requirements over the past five years, including one-third noting they are hiring applicants with a graduate-level education for positions previously held by those with bachelor's degrees, it's clear that many companies are now expecting advanced education on their candidates' resumes. Professionals who elect to complete a master's degree have many choices.
As you explore your options, you may find yourself deciding whether to apply for a Master of Public Policy or Master of Business Administration program. Consider the following questions: Are you interested in a quantitative-focused program that prepares you for work in policy research and design and program evaluation? Or do you aspire to lead your organization in a management position, making strategic business decisions?
To elaborate on each of these programs, below we analyze MPP vs. MBA, covering what each degree entails, their primary differences, and potential career paths for graduates.
View our other articles for more assistance comparing degrees:
---
Master of Public Policy vs. Master of Business Administration
MPP and MBA programs focus on different competencies and feature unique learning outcomes. In addition to comparing the curriculum in a master's of public policy vs. master's of business administration, it's critical to weigh other aspects that are important to you, which might include:
Faculty collaboration and mentorship
Modality options
Networking opportunities
Program flexibility
---
Master of Public Policy Program Overview
A Master of Public Policy is the recognized industry standard in public policy and is usually composed of core and elective courses. Here's what you can expect in an MPP program:
Core courses that typically include economics, quantitative methods, policy analysis, and program evaluation.
Experiential learning opportunities like client-based capstones, co-ops, internships, and research. Each of these offer a great way to gain real-world experience.
Skill development to shape public policies. You'll study policy research, drafting proposals, program design, and program effectiveness analysis.
Some programs allow students to select a concentration. In the Northeastern University Master of Public Policy, options include Healthcare Management and Policy or Sustainability and Climate Change Policy. Students at Northeastern also have the opportunity to complete a graduate certificate and earn credits toward their master's, with options in nonprofit, sustainability, security, and more.
MPP programs vary in length from 30 to 72 credit hours and can typically be completed in one to two years. This timeline may be extended if you choose to pursue your degree on a part-time basis rather than attending full-time.
Along with a completed application and academic transcripts, application materials often include a personal statement, letters of recommendation, and a resumé. GRE scores and a certain level of work experience may also be required.
---
Master of Business Administration Program Overview
Like the Master of Public Policy, Master of Business Administration programs commonly include both core and elective courses. An MBA program includes:
Core courses that cover accounting, finance, management, marketing, and operations.
Experiential learning opportunities, which may consist of capstone and other field and consulting projects.
Business and leadership development, including strategic planning and innovation, to prepare you to guide your organization in the ever-changing world of business.
MBA programs commonly feature a variety of concentration options. Degree requirements can range from 30 to 72 credit hours and programs may be one to four years in duration, taking into account factors like total credits required and how many courses a student takes per semester.
As with the MPP, admission materials include an application and transcripts, along with a personal statement, letters of recommendation, and a resumé. GMAT or GRE scores may be required, along with a couple of years or more of work experience.
---
Careers With a Master's in Public Policy
According to PayScale, the average salary for master's in public policy degree holders is $72,000 — higher than those at the bachelor level. The U.S. Bureau of Labor Statistics reports that political scientist positions, which includes policy analyst jobs, are predicted to increase 9 percent from 2020-2030. A master's degree is typically the minimum requirement for this role, and professionals in this position can expect a median salary of $125,350.
While public and nonprofit sector employment is common for master's in public policy graduates, many also work in the private sector. Common master's in public policy jobs and the top skills for each, as reported by Burning Glass Labor Insight, include:
Role
Top Skills Sought by Employers
Data Analyst
Management Consultant

Project management
Business processes
Business analysis

Policy Analyst

Policy analysis
Budgeting
Policy development

Program Coordinator

Scheduling
Budgeting
Staff management

Research Analyst
View our article for an in-depth look at master's in public policy careers.
---
Careers With a Master of Business Administration
There are many potential master of business administration jobs. Whether you want to further develop your skills for your current role, are seeking a management position, desire a spot in the C-suite, or have ambitions of starting your own business, earning an MBA can be advantageous.
The average annual earnings for professionals with an MBA are $91,000. Across management occupations, jobs are expected to increase at a rate of 9 percent from 2020-2030. Those with their eyes on the C-suite can look forward to similar growth opportunities, as the BLS forecasts 247,100 job openings for executive positions each year over the same time period.
Several master of business administration careers and the skills required include:
Role
Top Skills Sought by Employers*
Director of Human Resources

Employee relations
Performance management
Budgeting

IT Director

Budgeting
Project management
Software development

Project Manager

Project management
Budgeting
Scheduling

Supply Chain Analyst

Supply chian expertise
Supply chain management
Logistics

Vice President of Marketing

Marketing
Budgeting
Market strategy
*As reported by Burning Glass Labor Insight.
---
About the Master of Public Administration and Master of Public Policy Programs at Northeastern University
Northeastern University, a top-50, R1 research institution, offers two interdisciplinary, community-focused degree options for professionals ready to make their mark in the world of public service. Northeastern's School of Public Policy and Urban Affairs offers these two degree programs. Our Master of Public Administration (MPA) option is a career-oriented program designed to shape leaders who are ethical, efficient, and effective. Meanwhile, our Master of Public Policy (MPP) program equips future policymakers with the comprehensive research and analysis skills they'll need to best support the public good. Students in each program benefit from the world-class education, research opportunities, and expert faculty provided by Northeastern's College of Social Sciences and Humanities. Students may take classes online, in person, or in a mixed modality format.
---
PUBLIC AFFAIRS
Get Started Now
Fill out the form to learn more and download a brochure about Northeastern University's Master of Public Administration, Master of Public Policy, Master of Science in Criminology and Criminal Justice, or Graduate Certificates.
You can also email publicaffairs@northeastern.edu or call us toll-free at +1 877.377.2739 or at +1 617.655.6736 to talk with one of our admissions counselors.