calendar_today 9 November, 2021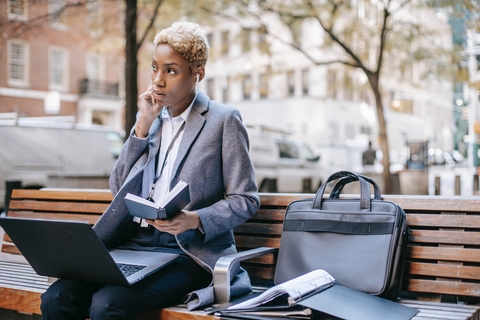 For professionals considering completing graduate education to advance their management skills, a Master of Business Administration and Master of Public Administration are two common choices.
When comparing these programs, it's important to think about your desired career path after earning the degree. If you are interested in public service leadership, a master's in public administration can help you gain the skills you need, while a master's in business administration is more helpful in preparing you for a managerial role in the private sector. Read on for an overview of degree requirements, learning outcomes, and career paths for each type of program.
If you're deliberating whether to complete a Master of Public Administration or Master of Public Policy, that article can help you make a decision.
---
Master of Public Administration vs. Master of Business Administration
While there are commonalities when assessing MPA vs. MBA, the outcome of each program differs. In an MPA, students gain skills in public management and budgeting, policy analysis, program evaluation, statistics, and leadership. MBA programs are centered on expanding students' knowledge of core business areas in the context of the global environment, along with management expertise.
Whether you choose to pursue an MPA or MBA, among the aspects to weigh is whether the school or program is accredited. Accreditation is important because it shows that the school or program meets the rigorous standards of the accrediting body. The Network of Schools of Public Policy, Affairs, and Administration (NASPAA) is considered the top accreditation for MPA programs. For MBA programs and schools of business, the Association to Advance Collegiate Schools of Business (AACSB) accreditation is the most highly regarded.
Degree Requirements and Curriculum
When looking at a master's of public administration vs. a master's of business administration, there are important differences in coursework, credit hour requirements, and time to completion. There may be overlap in core course topics, but the focus of each program is distinct. For example, a leadership course offered in an MPA is geared toward management in the public sector and nonprofit organizations, while the same course in an MBA program is centered on the private sector.
Below is a breakdown of some of the key features of each degree program.
Master of Public Administration (MPA)
Master of Business Administration (MBA)
Core Courses
Topics include: budgeting and finance, economic analysis, leadership, public administration foundations, and statistics
Topics include: accounting, finance, management, marketing, and operations
Common Concentration Options
Healthcare management, nonprofit management, and public management
Analytics, entrepreneurship, finance, information technology, and marketing
Experiential Learning Opportunities
May Offer:

Capstone – Work with an organization to address a problem and present solutions.
Internship – Earn credit while gaining part-time, real-world experience.
Co-op – Get full-time on-the-job training.

May Offer:

Capstone – Work with an organization to address a problem and present solutions.
Immersion courses – Global and domestic opportunities to study a specific business topic in-depth.

Total Credit Hours
30-42
30-72
Time to Completion
1.5-3 years
1-4 years
The time it takes to complete an MPA or MBA varies widely by school and depends on a number of factors including the total number of credit hours required, whether students have the option to complete the program part- or full-time, and if any of the experiential learning opportunities may extend the time it takes to earn the degree.
For programs that offer flexibility in their curriculum, students who do not wish to pursue a concentration can usually choose to complete an assortment of elective courses based on their interests. Some MPA programs, like the Northeastern University Master of Public Administration, offer graduate certificates that are available to earn along the way to the master's. Options include nonprofit sector, philanthropy, and social change; security and resilience studies; and sustainability and climate change policy.
---
Master's in Public Administration Careers
MPA graduates often assume leadership positions in the public or nonprofit sectors. They are looking for mission-driven careers and may have a passion for helping people. The career outlook for professionals with an MPA degree varies by position. Job openings for social and community service managers are expected to increase 15% from 2020 to 2030; for medical and health services managers over the same time period, a 32% increase is expected.
According to PayScale, the average annual base salary for professionals with a Master of Public Administration degree is $69,000, but earnings for master's in public administration jobs differ by level of experience and role.
While there are many opportunities for MPA graduates, below we've included a brief description and average salary information* for three careers with a master's in public administration.
| | Description | Average Salary |
| --- | --- | --- |
| City Manager | Runs the various departments of the city's government, including leading staff members and planning for and overseeing projects. Important skills include budgeting, operations management, and strategic planning. | $91,430 |
| Emergency Management Director | Plans for disasters and emergency situations. When emergencies arise, carries out their plan of action. | $79,450 |
| Human Resources Manager | Manages all human resources policies and procedures. This includes administering payroll, overseeing benefits, and handling the hiring process. | $68,752 |
*Average salary information from PayScale.
---
Master's in Business Administration Careers
Professionals who earn their Master of Business Administration degree can expect an average annual base salary of $91,000. There are a wide variety of careers with a master's in business administration, from management positions to entrepreneurship. Management occupations are expected to increase by 9% from 2020 to 2030, with over 900,000 new jobs.
Below are several options for master's in business administration jobs and the average salary* for each.
| | Description | Average Salary |
| --- | --- | --- |
| Digital Marketing Director | Develops and executes digital marketing plans, including managing paid search, social, display, and SEO efforts. This position typically includes leading a team. | $99,290 |
| Financial Analyst | Analyzes and reports on financial data and performance to assist the business in strategic decision-making. Advanced Excel skills are important as this role involves building complex spreadsheets. | $62,036 |
| Operations Manager | Ensures that a company's operations are running efficiently. Responsibilities vary by organization but may include budgeting, overseeing assets, and staff management. | $66,861 |
*Average salary information from PayScale.
---
About the Master of Public Administration and Master of Public Policy Programs at Northeastern University
Northeastern University, a top-50, R1 research institution, offers two interdisciplinary, community-focused degree options for professionals ready to make their mark in the world of public service. Northeastern's School of Public Policy and Urban Affairs offers these two degree programs. Our Master of Public Administration (MPA) option is a career-oriented program designed to shape leaders who are ethical, efficient, and effective. Meanwhile, our Master of Public Policy (MPP) program equips future policymakers with the comprehensive research and analysis skills they'll need to best support the public good. Students in each program benefit from the world-class education, research opportunities, and expert faculty provided by Northeastern's College of Social Sciences and Humanities. Students may take classes online, in person, or in a mixed modality format.
---
PUBLIC AFFAIRS
Get Started Now
Fill out the form to learn more and download a brochure about Northeastern University's Master of Public Administration, Master of Public Policy, Master of Science in Criminology and Criminal Justice, or Graduate Certificates.
You can also email publicaffairs@northeastern.edu or call us toll-free at +1 877.377.2739 or at +1 617.655.6736 to talk with one of our admissions counselors.