calendar_today 16 March, 2023
The United States has the highest rate of incarceration in the world: 573 of every 100,000 residents are incarcerated. This, in addition to significant disparities in arrests, sentencing, and victimization, has shone a spotlight on the need for major social change in the nation's criminal justice system.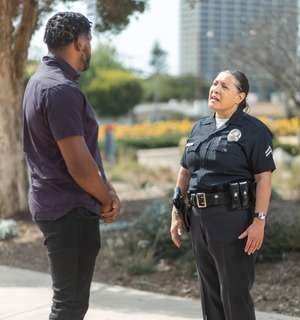 These efforts can seem daunting: the criminal justice system encompasses a wide range of institutions across the local, state, and federal levels, from police departments to child welfare agencies to officer presence in schools. But the grim picture painted by research and statistics like those mentioned above underscores the need for action from people with expertise and skills in the field — and points to the rewarding nature of this work.
Graduates with a master of science degree in criminal justice (MSCJ) gain knowledge and skills to help them advocate for greater equity in the criminal justice system, support the needs of victims, and design policies and programs that drive social change. There are many settings where MSCJ graduates can make a difference, including social services agencies, advocacy groups, think tanks and research organizations, law enforcement, and more.
In this article, we explore some of the current issues on which criminal justice professionals and criminology researchers are working to establish fairer processes and outcomes.
---
Disparities in Incarceration
The Sentencing Project reports that Black Americans are imprisoned in state facilities at nearly five times the rate of white Americans, while Latinos are incarcerated at a rate that is 1.3 times higher than whites. This disparity is widely considered to be the result of the cradle-to-prison pipeline where a variety of social and economic factors — including limited access to healthcare, underfunded public schools, and a focus on punishment instead of need fulfillment and rehabilitation — funnel a disproportionate number of minors from non-white populations into the juvenile justice system.
For example, Georgetown Law's Center on Poverty and Inequity found that:
Black girls are almost three times more likely than white girls to be referred to juvenile justice.
Prosecutors are 20% more likely to request a court order in cases involving Black girls than those involving white girls.
Judges consistently hand down harsher determinations to Black girls compared to white girls, even when accounting for variables like the offense, prior record, and age.
Once people have been charged with a crime and/or incarcerated, even on the juvenile level, it creates a cycle of poverty that is extremely difficult to escape. Formerly incarcerated people have a hard time finding work, which can lead to the inability to afford necessities like food and housing. If they do manage to secure employment, it is likely to pay significantly less and be far less stable than jobs available to those who haven't been incarcerated. Simply being arrested can affect employment prospects, even if an individual is released without being charged or is found to be not guilty.
---
Unfair Treatment From Law Enforcement
The cycle is further intensified by the criminalization of poverty and racial targeting. Low-income people, especially people of color, are more likely to be targeted and face consequences for minor offenses than Americans in higher socioeconomic classes.
For example, after Michael Brown was killed by police in Ferguson, Missouri, a Department of Justice report found that the city's poor, Black residents were disproportionately subject to high fines for low-level offenses: "Many officers appear to see some residents, especially those who live in Ferguson's predominantly African American neighborhoods, less as constituents to be protected than as potential offenders and sources of revenue," said the report. "Ferguson's approach to law enforcement both reflects and reinforces racial bias, including stereotyping. The harms of Ferguson's police and court practices are borne disproportionately by African Americans."
Other research has found disparities in law enforcement specifically. One large-scale study of traffic stops found that Black drivers were less likely to be stopped after dark, when their race was not as identifiable as in daylight. The same study found evidence that police officers had different standards on what warranted a search of drivers of different races. The researchers concluded that the bar to search Black and Latino drivers was lower than for white drivers.
---
Bias in Victimization
The disparities in the ability of United States residents to live without the threat of violence are also evident when viewing rates of victimization across sexual orientation, gender identity, racial, and ethnic lines.
While there have been some major advancements in the political rights of people of varying sexual orientations and gender identities, LGBTQIA+ individuals are still subject to higher rates of violence. A report from the U.S. Bureau of Justice Statistics found that lesbian and gay people are victimized at more than two times the rate of straight people. The rate of victimization for transgender people is even higher — 2.5 times higher than the rate for cisgender people. Domestic violence victims, too, are disproportionately queer: bisexual people were found to be victims of domestic violence at a rate eight times higher than straight people, and more than twice as high among lesbian and gay people.
As for ethnic and racial disparities, researchers at Northeastern University's School of Criminology and Criminal Justice recently explored bias-motivated victimization among Latino immigrants or Latinos perceived to be immigrants. Among their findings:
The group experienced a 62% increase in hate crimes from 2014 to 2018, compared to 30% for hate crimes in general.
Less than a fifth of non-immigrants reported the incident to official authorities, suggesting a lack of trust in criminal justice institutions.
---
Pursuing Social Change, One Program at a Time
Criminal justice experts, including many from Northeastern, are taking steps to address these disparities across the system by advocating for and working toward social change and equal justice for all. While it takes time to see progress on the national level, small, community-level reform can have meaningful impacts on the individuals that live in those communities.
Educating the Police
Tactics and policies of police departments and other law enforcement agencies that negatively impact and disproportionately target people of color demonstrates the need for policies and programs that eliminate such disparities. Reducing, and ultimately eliminating, disproportionate policing against people of color can go a long way in regaining trust in the criminal justice system among these communities.
For example, researchers in Northeastern's study of bias victimization among Latinos pointed to several areas where efforts could be made to prevent and reduce attacks on this group and rebuild relationships with authorities, including more training and education on bias victimization for police. Similar efforts could be applied to help reduce bias-related crimes against other diverse racial, ethnic, religious, and gender populations.
In another study, Northeastern Professor of Criminology Eric Piza analyzed hundreds of hours of body camera footage from the police department in Newark, New Jersey, to identify factors that could help predict the use of physical force in interactions between officers and members of the public. He found that relatively low-level police actions were the largest predictor, showing the need for police retraining.
"Officers are using force quickly to deal with suspect noncompliance rather than resorting to some different, more forceful verbal tactics," he notes. "Any retraining of Newark police officers around the use of force should really emphasize those types of activities."
Disrupting the Cradle-to-Prison Pipeline
Northeastern is home to the Cradle-to-Prison Pipeline Project, which brings together multidisciplinary experts to examine the causes and effects of youth criminalization as well as to support and promote effective interventions, policies, and laws that can help end it.
As part of the project, Northeastern Law Professor Stephanie Roberts Hartung and alumna Erin Stewart surveyed incarcerated people in Massachusetts and illuminated how children of color are particularly impacted by the state's welfare, education, and criminal justice systems and how those interactions increase their risk of incarceration.
"The survey results demonstrate that the systems designed to protect and support vulnerable youth in Massachusetts are failing to do so," said Hartung.
The goal is to provide evidence and data to build support for policies and legislation that can help dismantle the pipeline at critical points. Another team with the Cradle-to-Prison Pipeline Project created a map of interactions between children and systems to highlight where interventions could divert children out of the prison pipeline.
Prison Outreach and Reform
Providing career support can help formerly incarcerated persons develop the confidence and tools for a more effective job search. A Northeastern advocacy program helps inmates at a Boston-area facility reframe their skills through career workshops, working in tandem with existing programs at the facility.
"We're hoping to complement and enhance the work that they're already doing, and approach career design through a holistic lens infused with creativity," said Michelle Zaff, a senior co-op coordinator for the School of Criminology and Criminal Justice at the university.
Another Northeastern project focuses on the effectiveness of preparing incarcerated individuals for reentry into society through a "step-down" program. Participants graduate to lower security levels in the last year of their incarceration and receive additional support services. The study will provide a cost-benefit analysis and examination of the effect of the program on recidivism.
---
Position Yourself to Be an Agent of Social Change
As the examples in this article show, there are many areas of criminal justice that need continued research, action, and reform. So much action is needed that advocates might be overwhelmed by the sheer quantity of issues that need attention, leading them to struggle to find a focus.
This is where graduate education in criminal justice can help: a well-designed program does more than build crucial skills, it also helps its students find which area of the criminal justice field they are best suited for. Interdisciplinary programs expose students to the full reach of the criminal justice process, helping them to discover the area that best matches their abilities while also learning the techniques that spur effective action.
For those who already know how they'd like to proceed, many degree programs also offer specialization or concentration options that let students shape the curriculum to their future plans. Some programs also provide experiential learning opportunities where students can get a sense of what it's like to work and serve in a particular area, like corrections, loss prevention, and social services.
---
About Northeastern University's Master of Science in Criminology and Criminal Justice
Available on campus, online, or in a mixed modality, the Master of Science in Criminology and Criminal Justice (MSCJ) from Northeastern University examines all aspects of criminological inquiry and the criminal justice process. Students benefit from the extensive resources of a globally renowned research institution as they explore strategies to prevent crime, encourage societal equity and justice, and reduce harm in the justice system.
Our world-class faculty teach advanced skills in qualitative and quantitative research and analysis while providing foundational knowledge in criminological and criminal justice theories and individualized mentorship. The MSCJ curriculum, which can be completed in one year, offers students and professionals the knowledge and skills needed for leadership roles in policymaking, research, analyst work, research directorships, and law enforcement. This program also features Northeastern's world-renowned experiential learning opportunities, which place students in agencies and organizations where they can start making a difference. Plus, it includes a range of customization options, including a cybersecurity concentration and the ability to complete a graduate certificate in a related field.
---
PUBLIC AFFAIRS
Get Started Now
Fill out the form to learn more and download a brochure about Northeastern University's Master of Public Administration, Master of Public Policy, Master of Science in Criminology and Criminal Justice, or Graduate Certificates.
You can also email publicaffairs@northeastern.edu or call us toll-free at +1 877.377.2739 or at +1 617.655.6736 to talk with one of our admissions counselors.