calendar_today 1 March, 2022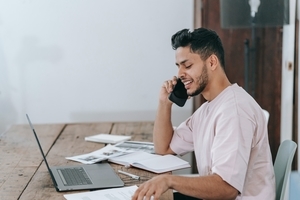 Students in a criminology master's program learn how to approach crime and all of its aspects from a sociological perspective. They develop their research and analytic skills with a sharp focus on economic, social, psychological, and individual factors in order to answer existential concerns about the presence of crime in society. Students also develop their communication skills, allowing them to convey their findings to public officials, police departments, lawyers, and the public.
A criminology education enables students to better understand the impact and influence of crime and to uncover relevant social trends that illuminate who commits crimes, when and why crimes are committed, and who is most vulnerable to becoming a target. With such skills and knowledge at their fingertips, graduates from a criminology program can draft evidence-based policies to bring effective changes to policing, courts, prisons, and the justice system as a whole.
Criminology is a social science that uses multiple research methods to theorize why, when, where, and how crime occurs, with the ultimate goal of improving community safety.
The skills developed within a criminology master's program include:
Research
Statistics
Analysis
Evaluation
Communication
Critical thinking
Advocacy
A criminologist looks past short-term goals to find lasting anti-crime solutions. The discipline gives equal treatment to the circumstances prior to and following a crime. Professionals are tasked with answering questions such as:
What social structures deter crime rather than encourage it?
After a crime has occurred, what is the proper way to restore justice?
What does justice look like when considering the victim, the perpetrator, and society as connected elements, rather than independent actors?
What should happen when victims of similar crimes feel differently about their experience or have varying needs in the aftermath?
What should happen when separate perpetrators commit similar crimes but for vastly different reasons?
The lens of a criminologist is trained inwards as well as outwards. In addition to examining society as a whole, criminologists have the tools and skills to evaluate and reduce instances of harm among those responsible for reducing crimes. For example, a criminologist can investigate the circumstances surrounding police misconduct and help departments develop more equitable practices.
---
What Can You Do with a Master's in Criminology?
A master's in criminology curriculum is grounded in sociology and research methods. As a student, you'll learn how to collect various types of data and, with them, examine the cultural and social circumstances that make people more likely to commit crimes. Professionals use such insights to develop prevention strategies and policies that work to eliminate or alleviate these contributing circumstances while ensuring their solutions don't inadvertently cause harm.
As a professional, you may find your expertise allows for versatility among justice-related non-government or nonprofit groups. If you'd prefer to direct teams rather than conduct research, your analytical talents can help you spot leadership or management gaps within your organizations while sociological education provides the skills to thrive in such roles.
Though the average reported annual salary for individuals with a criminology master's degree is $69,000, the wide range of jobs and career levels available to graduates means your salary could potentially be much greater. What's more, studying criminal justice alongside criminology can open you up to additional career opportunities. Comparatively, the criminal justice field is more concerned with the institutional components of crime prevention, including law enforcement, the courts, and correctional facilities. Learning both the sociological and institutional elements allows you to devise more effective crime-prevention strategies.
---
Master's in Criminology Careers
Crime Analyst
A crime analyst's primary job involves reviewing data collected from a variety of sources — including crime scenes, crime reports, and census information — to identify patterns and trends that can suggest the likelihood of future crimes. Analysts use this data to recommend or implement improvements to prevention strategies and resources. Based on their findings, a crime analyst recommends adjustments such as using social workers rather than armed officers for non-violent crimes, shifting police budgets from marketing to training, upgrading software that allows detectives to make more effective use of their time at a desk, or other such modifications.
Victim Witness Advocate
Victim witness advocates often work directly with the targets of crime, most commonly victims of interpersonal crimes such as domestic violence, to support their needs throughout all stages of the justice process. Advocates connect these people with resources that help fulfill needs, such as shelter, medical services, financial or employment assistance, legal support, and more. They may also provide one-on-one counseling, facilitate group support sessions, or advocate for legislation that better supports victims. Finally, a witness victim advocate may be called to support victims through legal proceedings, staying by their side during police interviews and helping them prepare for court.
Forensic Psychologist
By making use of their sociological and psychological knowledge, a forensic psychologist develops profiles of perpetrators. They may also evaluate an accused person's mental health in order to help determine their culpability for a particular crime, their competency for trial, and/or offer guidance for appropriate sentencing. Much of the job involves interviewing individual patients, forming diagnoses, and writing reports for court. Forensic psychologists may also work as consultants or teachers.
Police Chief
The highest-achievable rank in a police department, the chief of police is responsible for directing the policing resources of a given area, allocating budget and manpower in ways that most effectively prevent crime. A police chief may also create or implement new policies within the department and ensure they are being followed correctly. Some act as a liaison between the public and police, though they likely aren't as involved in such matters as the department's communications team.
Although a criminology degree isn't required to become a police chief, the sociological understanding of crime that such a degree provides can lead to more effective crime-prevention strategies. A police chief with this background is better equipped to take a proactive approach to deterring crime, rather than a reactive one based on punishing alleged perpetrators.
Information Security Specialist
Information security specialists work to safeguard sensitive data. The ever-evolving threat of cybercrime make these individuals particularly valuable for both businesses and public organizations. Such specialists are well-versed in foundational and innovative cybersecurity theories and techniques, and their job duties may include developing cybersecurity policies, selecting security and cloud storage solutions, digital risk management, and performing security audits. While IT skills are required for this role, a master's degree in criminology can help these professionals to better understand, assess, and mitigate threats.
---
About Northeastern University's Master of Science in Criminology and Criminal Justice
Available on campus, online, or in a mixed modality, the Master of Science in Criminology and Criminal Justice (MSCJ) from Northeastern University examines all aspects of criminological inquiry and the criminal justice process. Students benefit from the extensive resources of a globally renowned research institution as they explore strategies to prevent crime, encourage societal equity and justice, and reduce harm in the justice system.
Our world-class faculty teach advanced skills in qualitative and quantitative research and analysis while providing foundational knowledge in criminological and criminal justice theories and individualized mentorship. The MSCJ curriculum, which can be completed in one year, offers students and professionals the knowledge and skills needed for leadership roles in policymaking, research, analyst work, research directorships, and law enforcement. This program features a range of customization options, including a cybersecurity concentration, the ability to complete a graduate certificate in a related field, and experiential learning.
---
PUBLIC AFFAIRS
Get Started Now
Fill out the form to learn more and download a brochure about Northeastern University's Master of Public Administration, Master of Public Policy, Master of Science in Criminology and Criminal Justice, or Graduate Certificates.
You can also email publicaffairs@northeastern.edu or call us toll-free at +1 877.377.2739 or at +1 617.655.6736 to talk with one of our admissions counselors.